Approach
Circus works, all over the world, and with all possible groups. In addition to being an goal in itself, circus is also an appropriate means of achieving numerous positive effects. Taking part in a circus program develops social, physical, emotional and cognitive skills.
As long as it is given in a professional manner and adapted to the participants. And it is precisely in this area that Circusplaneet has built up many years of expertise.
Circusplaneet tries as much as possible to meet the demand to be present at events and activities of neighbourhood organisations, in which neighbourhood children and their network are present.
We have been present in the Brugse Poort / Malem for a number of years now. We have a lot of nice partnerships, work together with various community schools and are proud of our annual community circus festival Planeet Malem.
For more information please contact us: karolien@circusplaneet.be or +32 (0)9 228 92 72.
Since 1 January 2019, we have started a satellite operation in 'Nieuw Gent'. Also there we try to build up a network and to get as many children and youngsters as possible interested in circus.
For more information please contact us: Wibbe@circusplaneet.be or +32 (0)9 228 92 72.
All this is done in collaboration with Brede School Brugse Poort and Brede School Nieuw Gent.
BRUGSE POORT - MALEM
Courses
In recent years, we have started several series of lessons. We do this in cooperation with the different neighbourhood schools of the Brugse Poort. In this way we reached a lot of children in an accessible way, both after and during school hours, whom we would not otherwise reach. These series of lessons usually consist of 6 lessons (from one holiday to the next).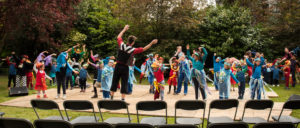 Project weeks
During the Easter and summer holidays we give children the opportunity to practice intensively on different circus techniques. These project weeks always end with a presentation for family, friends and other local residents. This gives the children the opportunity to show what they have learned during the camp.
Workshops for mothers
At the request of some mothers in the neighbourhood to learn some circus techniques themselves, we decided to give a monthly workshop to this target group. They come to our circus church while their children are at school. We have deliberately chosen to give the workshop to women only. This way the women do not feel inhibited to participate in physical activities and there is a cheerful and loose way to work and talk. Now that the church is in full renovation, monthly workshops are held in the circus hall in the Drongensesteenweg. For questions or more information: karolien@circusplaneet.be or 09/228.92.72.
NIEUW GENT
In the beginning of 2019 we started with the development of several series of lessons for children from the neighborhood. This is done in cooperation with various neighbourhood schools. In cooperation with the KAAGent foundation, we are developing a customised programme for toddlers. Some series of lessons are after school hours, others are during school hours and in function of a school project. These lessons are an accessible way to get to know Circusplaneet and at the same time they can make connections with our paying courses.
In September 2019, we will expand our range of lessons with a second evening a week, preferably at a location in the heart of the neighbourhood.
UiTPAS
By working together with UiTPAS we can give families in precarious situations a discount of 80% on the registration fee for the regular lessons and camps. Half of this is contributed by the City of Ghent and the other half we finance thanks to a subsidy from the Flemish Government.